(This blog post is late in coming. We have had some adventurous couple of days around here and I've been meaning to compile this for over a week but simply ran out of time!)
If you have been reading my blog for a while, you know that last year we bought part of a free-range, grass fed cow and split it with a friend. A couple of weeks ago, knowing that we were soon to purchase a whole free-range, organic pig, I went on a quest to start eating anything and everything in the freezer. Including beef bones.
Okay, so I wasn't really going to eat the beef bones. But I had to do something with them, and seeing as how they're pretty much only good for stock, that made my decision pretty easy. I found a recipe for beef broth on allrecipes.com. The assembly was pretty straightforward. I'm not a fan of cooking things on the stove for 5 hours at a time, so I adjusted the recipe to sit in a crockpot for almost 12 hours. If you do not care for the smell of the simmering broth, I would recommend putting the crock pot either in your garage or outside. This way you get all the goodness of delicious homemade beef broth without the wrinkled noses.
Once you make this broth, you should use it within a few days or freeze it. Please note that when the broth is refrigerated, it will look gelatinous, but once you heat it, it will turn into a liquid instantly. The same is true for homemade chicken stock.
You can use this broth in
minestrone
, French onion soup, or
anything else
that calls for beef broth. Once you heat it, just use the same amount that is required in your recipe.
beef stock
4 pounds beef soup bones (we used grass fed beef soup bones)
1 onion chopped into 8 pieces
2 large carrots chopped into 1-inch pieces
1/2 cup water
2 stalks celery, including some leaves, chopped into 1-inch pieces
1 potato, cubed
6 whole black peppercorns
3 sprigs fresh parsley
3 sprigs dried thyme
1 bay leaf
2 tsp salt
1 whole clove garlic
8 cups water
Preheat oven to 450.
Place chopped carrots and onions on top of beef bones in a large shallow baking dish.
Bake, uncovered, about 30 minutes or until the bones are well browned, turning occasionally.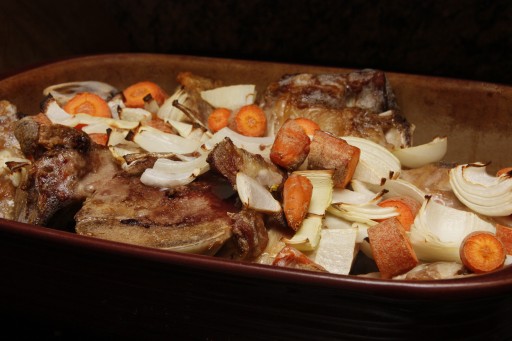 Chop celery, potatoes, and herbs.
Place bones, carrots, onions, and remaining ingredients in a 6-quart crock pot. Turn the heat setting to high for 4 hours and then turn it to low and cook for at least 8 more hours.
When the broth is dark brown, strain through a colander into a large bowl and refrigerate overnight. The fat will rise to the top and harden. Discard the fat.
You can heat the broth to use immediately or store in an airtight container in the fridge for up to 4 days or the freezer for several months. You can also follow the same steps to clarify the beef stock as mentioned in my
chicken stock recipe
.