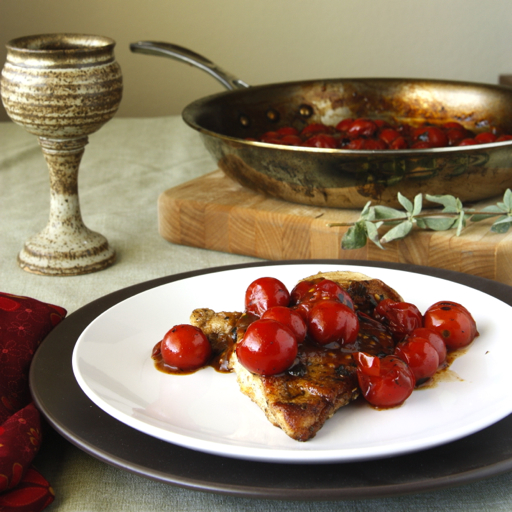 When Annie posted this recipe, I thought to myself, "What the heck? Annie suggests it. I'll try it. But I don't think I'll like it!" Boy was I ever surprised! First of all, start to finish, this takes less than 20 minutes to make. If you burn the butter and the fire alarm goes off and you can't figure out how to turn the fire alarm off and you have to stuff the alarm into the couch cushions to silence it, it may take 25 minutes. But if you don't have fire alarm issues, I promise, it's a super-fast meal. Weeknight dinner? I'd say so! And it's healthy. And it's delicious. It's a new favorite in our house that I've served several times in the past few weeks! Try it with our summer tomatoes. You're going to be delighted!
chicken with tomato herb pan sauce
Source: Annie's Eats
Dinner will be on the table in 20 minutes. Promise. But quick isn't everything. This is one of our new favorite meals for it's amazing flavor!
Ingredients
2 boneless, skinless chicken breasts, butterflied and halved (4 halves total)
Salt and pepper
¾ cup flour
For the sauce:
2 tbsp. unsalted butter, softened
1 clove garlic, minced
1½ tsp. fresh oregano, minced
1/2 tsp. sweet paprika
Salt and pepper
1 tbsp. olive oil
2 cups cherry or grape tomatoes (about 12 oz.)
1 tsp. sugar
1/3 cup chicken broth
1 tbsp corn starch
1 tbsp cold water
Instructions
Season both sides of the chicken breasts with salt and pepper. Lightly dredge both sides of the chicken in the flour, shaking off the excess. Set aside.
In a small bowl, combine the butter, garlic, oregano, and paprika. Season with salt and pepper to taste. In a large skillet over medium-high heat, melt 1 tablespoon of the oregano butter with the olive oil. Place the chicken breast halves in the skillet and cook until golden brown on each side and cooked through, about 3-4 minutes per side. Transfer to a plate, cover loosely with foil, and set aside.
Increase the heat to medium-high and add the tomatoes to the skillet. Cook, stirring occasionally, until the tomatoes begin to char and burst, about 5 minutes. Add the remaining butter mixture to the pan. Crush the tomatoes slightly to release their juices and continue stirring until the butter is melted. Add the sugar and broth to the pan, scraping the bottom to loosen the browned bits. Cook for a minute more until well blended. Combine the corn starch with the cold water in a small bowl. Add to the sauce and heat until boiling.
Slice the chicken, transfer to serving plates, and top with the pan sauce.
http://www.dishingthedivine.com/2012/07/02/chicken-with-tomato-herb-pan-sauce/
Copyright 2012 Dishing the Divine