When my husband decided at the last minute to go out for Vietnamese food for dinner, I decided to treat myself to a special meal including recipes that I knew that Brant might snub. Brant is skeptical of most biscuit recipes except this one, so I took advantage of his absence to make these white cheddar biscuits. Oh, and how delicious they were! My dad stopped by the next evening and I toasted one for him and covered it with slabs of butter. He devoured it it in no time… and then asked for a second one!
These aren't your traditional biscuits. They're more like a cheese bread shaped like a biscuit, and that makes them all the more delicious to me! I loved the subtle rosemary and cheesy tastes and thought that the biscuits were delicious both plain and smeared with salted butter. Try them alongside a hearty stew and let me know how you like them!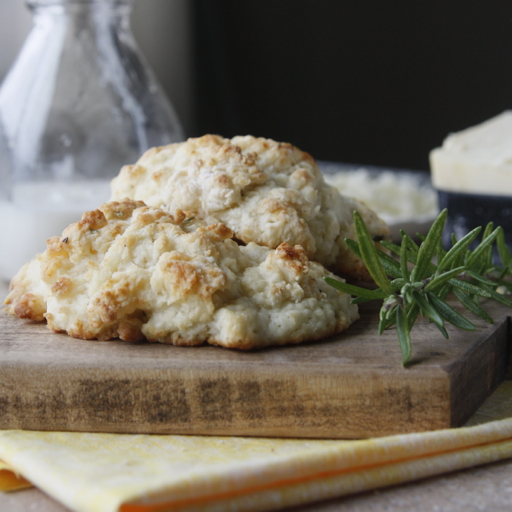 rosemary white cheddar biscuits
From Sugarcrafter
These cheesy biscuits are absolutely heavenly when smeared with a pad of cold, salted butter!
Ingredients
1 1/2 cups unbleached all-purpose flour
1 tbsp baking powder
3/4 tsp salt
1/2 - 1 Tbsp fresh rosemary, minced (I used a lesser amount because I find rosemary to be overwhelming.... you can add the full amount if you're a big rosemary fan!)
2 tbsp chilled butter
1/2-3/4 cup buttermilk
1/2 cup shredded white cheddar cheese
2 tbsp salted butter, melted
Instructions
Preheat the oven to 400 degrees and line a baking sheet with parchment paper. In a large bowl, whisk together the flour, baking powder, salt, and rosemary.
Blend in the butter using a pastry blender. Add half a cup of buttermilk and cheese to the flour mixture and stir just until the mixture holds together. If necessary, add up to 1/4 cup more buttermilk to the mixture until the dough just comes together. Drop the dough by heaping 1/4 cupfuls onto your prepared baking sheet. Baste the tops of the biscuits with the salted butter.
Bake 12-15 minutes or until lightly browned. Serve warm.
http://www.dishingthedivine.com/2012/03/25/rosemary-white-cheddar-biscuits/
Copyright 2012 Dishing the Divine