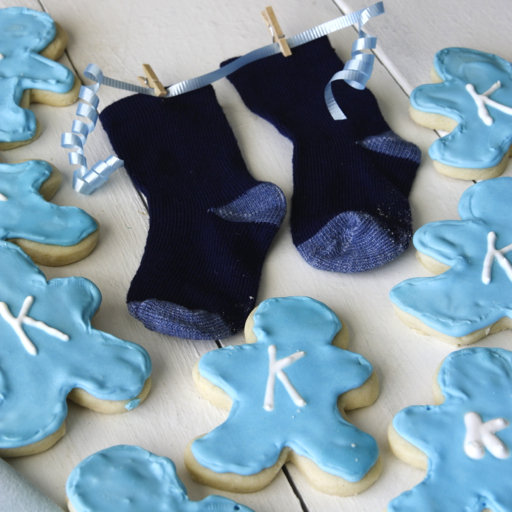 I threw a baby shower for a friend on Saturday. I love making creative and tasty foods, but I am *not* a good theme party hostess because I am terrible at pulling off decorations and games. In fact, I was making up the rules to Saturday's games as we were playing them. That's how much of a procrastinator I am when it comes to tackling a project that is not "my thing."
For Saturday's party, I told the guest of honor that she could depend up me for food and maybe games, but decorations weren't happening. She is very gracious and was fine with this arrangement. As I was talking with friends about the party, I realized I should at least make *something* that was baby shower themed. Enter these sugar cookies, decorated with a K for their little baby, Kavin.
When I'm not procrastinating, I'm delegating. My friends are in awe of my delegation skills. I'm not sure how one could be in awe of a skill that is essentially passing off one's work to another person. It's simply a matter of asking.
We had 4 girls from Utah staying at our house this weekend through the www.couchsurfing.org program. As soon as they stepped in the door, I had them roped into decorating these cookies. It's not that I couldn't do it. It's just that they could! And given that they were staying at my house for three days, they weren't really in a place to decline my request. :)I have made these cookies loads of times in the past. I make them for every major holiday as cookie decorating is a fun way to spend time with family while simultaneously giving your hands something to do. Some sugar cookies puff when baking, meaning your little snowflake can end up resembling a snow cone, but not these! They stay perfectly in place. And as long as your icing is the right consistency, they are so easy to decorate. Or, at least, that's what my house guests tell me!
I personally don't eat sugar cookies (what's the point!? there's no chocolate!) but I hear from other sugar cookie fans that these not only look delicious, they also taste fabulous. That's a twofer, folks. Everyone loves a twofer, so make these cookies for your next gathering and watch people ooh and ahh at them and then gobble them up!
sugar cookies & royal icing
from Annie's Eats
These no-fail sugar cookies are fabulous fun to decorate - and eat!
Ingredients
sugar cookies:
1 cup butter
1 cup powdered sugar
1 egg, beaten
1 ½ t. almond extract
1 t. vanilla
1 t. salt
2 ½ c. sifted flour
royal icing:
4 cups powdered sugar, sifted
2 tbsp. meringue powder
5 tbsp. water
Instructions
for the cookies:

Cream butter. Add powdered sugar. Blend in egg, almond extract, vanilla, salt and flour. Chill dough until firm (at least 30 min, and preferably an hour). Roll to ¼" thickness on well-floured surface. Cut with cookie cutters. Place on greased cookie sheets. Bake at 375° for 8-10 min. Cookies should not brown. Frost and decorate when cool.

for the icing:

Combine all ingredients in the bowl of a stand mixer fitted with the paddle attachment. Mix on low speed until the sheen has disappeared and the icing has a matte appearance (about 7-10 minutes). Transfer the contents of the mixing bowl to an air-tight container. This will be the stiffest consistency of the icing, and at this point it is still too stiff to use for decorating. Add water a very small amount at a time and stir by hand until fully incorporated. Continue until the icing has reached a consistency appropriate for piping. (Remember, if you are having any difficulty piping, it is still too thick. Add a little more liquid and try again.) Using a pastry bag, pipe around the edges of each cookie. Let stand so the icing will set. Make sure to keep the leftover icing covered at all times when not in use so that it does not begin to harden.
Once all the cookies have been edged, transfer some of the remaining icing to a separate air-tight container. Thin out by incorporating a small amount of water at a time, until the icing drips off the spoon easily when lifted and then smooths in with that still in the bowl. If you go too far and the icing is too thin, add more sifted powdered sugar to thicken it again. Once the icing has reached the desired consistency, transfer it to a squeeze bottle (or a plastic bag with a hole in one corner), and flood the area surrounded by the piping on each cookie. If it does not completely spread to the edges, use a toothpick to help it along. Allow to set.
Use the remaining thicker icing for piping decoration as desired. Gel icing color is best as it does not add a significant amount of liquid. Liquid food coloring can be used as well – add powdered sugar as needed to compensate for any thinning that occurs.
http://www.dishingthedivine.com/2011/09/20/sugar-cookies-royal-icing/
Copyright 2012 Dishing the Divine