Many of my readers know that coming up with new blog-worthy recipes week after week can be challenging, so I love it when they take the time to share one of their favorite recipes with me so that I can make them and share them with others.
LeAnn recommended this recipe, and after I parsed through the arcane directions and translated them into modern day English, I was very satisfied with the end result. This dish combines a lot of different flavors and textures for a really unique meal. I love that it has protein, carbs, and veggies all wrapped up on one plate. It's sweet and savory and presents itself so nicely that it looks like you slaved for hours to make it. No need to tell your dinner guests that this wasn't the case. What they don't know won't hurt them!
I gladly take recipe submissions any time, so if you want, just send me an email with a link or pdf of your recipe at paula<at>dishingthedivine.com.
butternut squash risotto with chicken
for the squash mixture:
4 tbsp butter
1 lb butternut squash, peeled and grated
1/2 large onion, chopped
3 oz Swiss cheese, grated
1 tsp chopped parsley
1 tsp chopped chives
for the risotto mixture:
2 tbs olive oil
1/2 large onion, chopped
1/2 cup risotto rice (also called Arborio Rice)
1/2 cup white wine
1 1/2 cups chicken stock
for the chicken:
4 tbsp butter
1 1/2 lb boneless chicken breasts
1/4 cup maple syrup
2-3 tbsp dried cranberries
1/2 cup chicken stock
Squash Mixture: Prep your squash mixture ingredients.
Melt the butter in a skillet and saute the squash and the onion until translucent.
Stir in the cheese, parsley, and chives. Set aside.
Risotto Mixture: Heat two tablespoons of olive oil in a saucepan over medium heat. Saute the remaining onion. Add the rice and wine, stirring constantly. Reduce  slightly. Add one and a half cups of the chicken stock, a half cup at a time, stirring until absorbed.
The rice is done when still slightly crunchy.
Combine the risotto and squash mixtures.
Chicken: Fry the chicken breasts in 4 tablespoons of butter until browned and almost cooked through. Add the maple syrup, cranberries, and 1/2 cup of chicken stock. Cook for a few minutes over low heat until the sauce is slightly reduced and the chicken is fully cooked.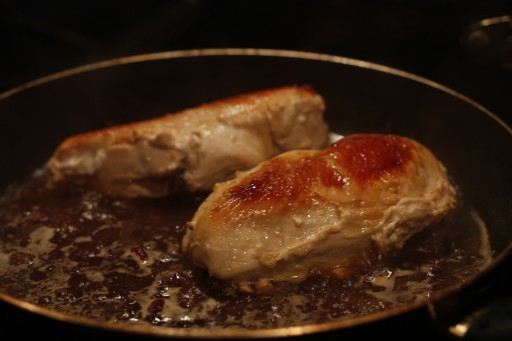 Serve the chicken over the squash risotto and ladle with sauce.